8 Bit music and Circut Bending!
Monday 1st of June 2009 11:49:05 PM By: Chris Robertson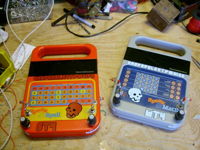 I just re familiarized myself with 8bit electronic music. It is music made with old Game boys, speak and spells and stuff.
Here is a really amazing store Casper Electronics. I just never realized that you could just go out and buy this stuff.
I read some articles about people modifying old electronic devices though. I want to use this music category to share creative music out there. I guess one of my favorite two 8 bit artist out there right now is Unicorn Dream Attack and Henry Homesweet and there is even something called an 8 Bit Collective.
I think the most advanced program for producing music on gameboys is LSDJ. I have used many other programs but it seems the most advanced and you can make any gameboy sound available, its truly an amazing beast of a cart.