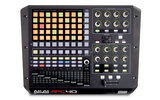 The Akai APC40
Saturday 30th of May 2009 02:25:38 PM
So there is a new midi controller on the market that was released today with an interesting new design. One that I have been thinking about for years. Its a midi controller that is made specifically for one software application. The software application happens to be Ableton Live and the midi controller is the APC40. What does this mean? Well it means that no more assigning knobs or faders for your favorite effects etc, everything is all set up for you to get started. This is probably the best interface design for a midi controller because it eliminates the most annoying part, assigning.
The Akai APC40 communicates bi-directionally with Live which is different than most other midi controllers, this means you don't have too look at the computer screen as much.
Now if they would just make one for Reason...
Here are the tech specs.
Pre-mapped Ableton live control surface
USB connection
Dedicated clip matrix:
40 x clip action triggers with backlight status indication (5 clips per each of the 8 channels - expandable via bank select)
5 x Scene launch triggers
9 x scence stop triggers
9 x track selection buttons
Dedicated mixer section:
8 x activator triggers (1 per channel)
8 x track solo / cue buttons (1 per channel)
8 x record arm buttons (1 per channel)
8 x channel faders
1 x master fader
1 x cue level control
1 x crossfader
1 x master play button
1 x master play stop button
1 x master record button
Track control section
4 x track setting buttons (pan, send A, send B, Send C)
8 x track control rotary encoders (one for each channel) with illuminated parameter LED indicators
Dedicated device control section:
8 x Device (effects & VSTs etc) control rotary encoders with illuminated parameter LED indicators (all 8 apply to selected track)
1 x clip / track view select button
1 x device on / off button
2 x device select / scroll buttons
1 x detail view button
1 x record quantisation on /off button
1 x midi overdub on / off button
1 x metronome on / off button
General control section:
1 x Tap tempo button
2 x tempo nudge buttons / pitch bend
5 x nagivation / bank select buttons


Heres a link to the youtube video.